Covid 19 Message
Our Head Office in the Heritage Mall is now open to walk-in traffic from 10am-2pm Monday-Friday. 
Please note that all of our Programs and Services continue to be in full operation. 
For more information, please call 519-372-2091 and we will be happy to assist you.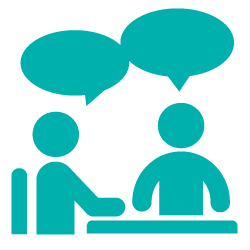 Have a chat
HCSS staff match volunteers with an appropriate client and friendly visiting takes place in client's home. The purpose of this program is to provide socialization and opportunities to interact with others.  Clients receive personal visits. There is no fee for this service.
Friendly Visiting
Friendly Visiting is a service that matches a volunteer to an isolated senior, an adult suffering dementia, or physically disabled adult in his/her home on a regular basis. The visits will generally be in the client's home but the volunteer can also take the client shopping or to a social event.
Clients of the Friendly Visiting service provide information about their interests and background in order to match client and volunteer interests for a successful visiting relationship.
Who our program is for
To be eligible for Friendly Visiting, individuals must be a frail elderly person or an adult with physical disabilities. Individuals must also meet one of the following criteria:
Living alone or with someone who is unable to meet their social needs

Confused, depressed and/or socially or physically isolated
Friends and relatives are not available to provide these services

A caregiver is providing services but requires respite
How Our Service Works
If you are new to HCSS and would like access one of our programs or services, register with us by calling the central intake office at 1-833-659-5491.
Afterward, please contact us to arrange your service.