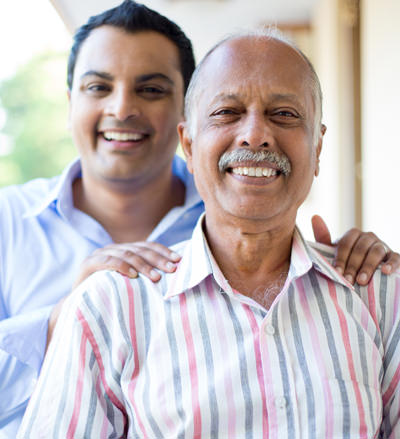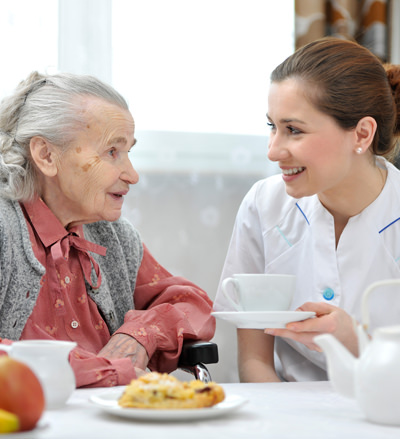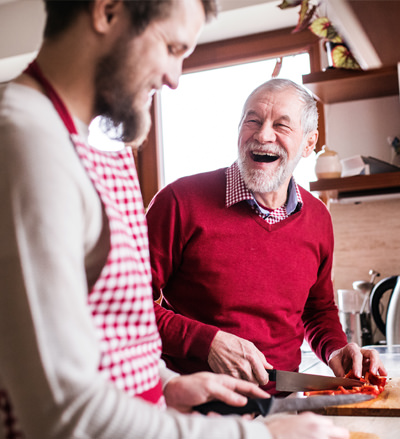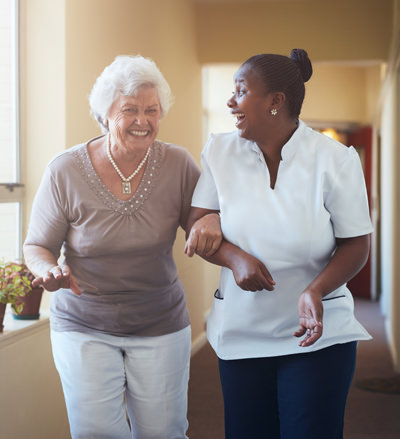 You can help
Home & Community Support Services partners with community members who give of their time and skills to support clients and residents in a variety of ways.
Why Volunteer?
Experience personal satisfaction helping others.
Become part of a caring team, meet new people and make new friends.
Meet community-minded people, who share a common goal.
Gain valuable work experience.
Make a difference in someone's life.
A way to express gratitude for help you may have received in the past from an organization.
Retired professionals can contribute their skills benefiting their community.
 We can find something meaningful for you to do whether it is five times a week or twice a month. 
Sign up to volunteer by calling us at: 1-800-267-3798 ext. 6.
Make a difference
Volunteers join us in our Mission to support independence and enhance the quality of daily life for seniors, adults and their families. As a HCSS Volunteer, your time and commitment has a valuable impact in YOUR community.
We will support you in your volunteer work by setting up meaningful opportunities with clear position descriptions and by providing orientation, on-site training, and ongoing support and recognition.
Sign up to volunteer by calling us at: 1-800-267-3798 ext. 6.
Types of volunteer positions
Transportation Services
Volunteer Drivers – This is a great opportunity for volunteers looking for a highly flexible schedule.
Meals on Wheels and Frozen Meals
Great opportunity for volunteers looking for a short time commitment – approx. 30-60 minutes for meal delivery.
Day Away
There are many different volunteer opportunities for the Day Away program. I.e. transportation drivers, musicians, help serve meals, chat one-to- one with clients, games, cards, & many recreational activities. Why not share your talents or show our clients your hobby collections, or teach a craft class.
Friendly Visiting
Friendly Visiting volunteers offer emotional support and friendship. Confidential one-to-one companionship and support to seniors, and adults who are lonely or isolated. We match volunteers and clients, based on backgrounds, interests and personality types. Flexible schedule & time commitment.
Volunteer Board Members
The main purpose of the HCSS-GB Board is to make governance decisions and be responsible to all of our stakeholders, so that the stated purpose, goals and objectives of the organization can be attained within its budgetary framework. Your expertise would provide valuable insight in assisting HCSS reach future goals to effectively serve the communities of Grey Bruce.
Skilled Services
We are always looking for help in areas of expertise. Do you have skill sets in any of the following? Or do you believe you can contribute your skills, such as;
Video, Photography, writing, proof reading, website maintenance, social media, advertising, marketing help, board members, etc. 
"I'm now a volunteer driver and I find it makes me feel so good to do something for others. It's such a small thing and really doesn't take up much time, but the reward is priceless."
– K.C.
"As a volunteer I have met many wonderful people who all have an interesting story to tell – their life story. Volunteering has helped me remain active and feel a part of the community. It is a very rewarding experience."
– J.M.
"Volunteer driving gives me an opportunity to meet nice people, explore my new environment, make myself useful, gets me up and away in the morning."
– C.N.
"When delivering meals on wheels, it makes you feel good when someone meets you at their door and appreciates your volunteering and greets you with a smile and a thank you."
– L.P.
"It's good to see old friends often. They are comfortable with me because they know me. I am happy to see them taken care of. We both win."
– P.C.
Home & Community Support Services Grey-Bruce is currently looking to recruit new members to join our volunteer Board of Directors.
If you are interested in sharing your skills and experience with us please review the information below and complete the application.
Board of Directors Information
Board of Directors Application Form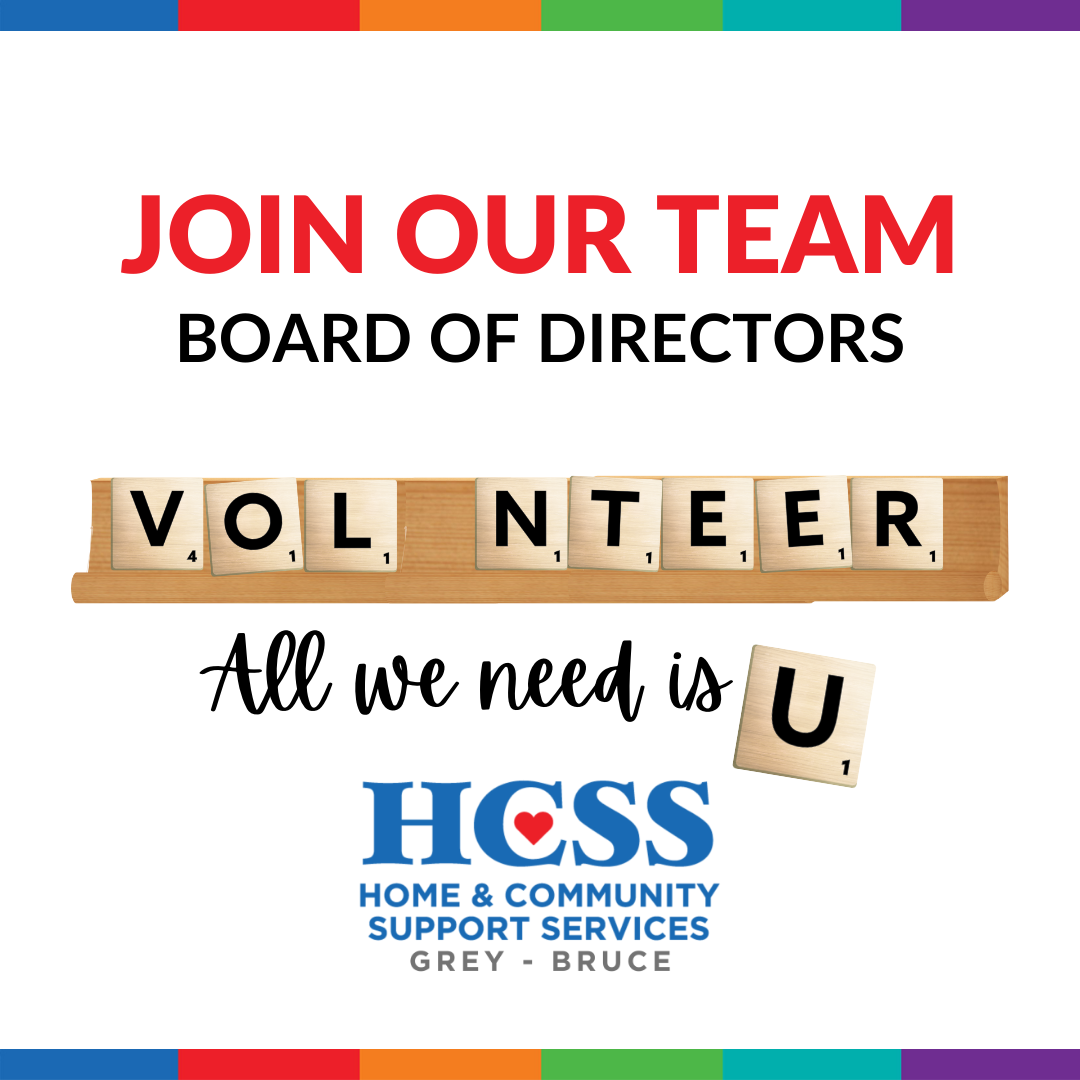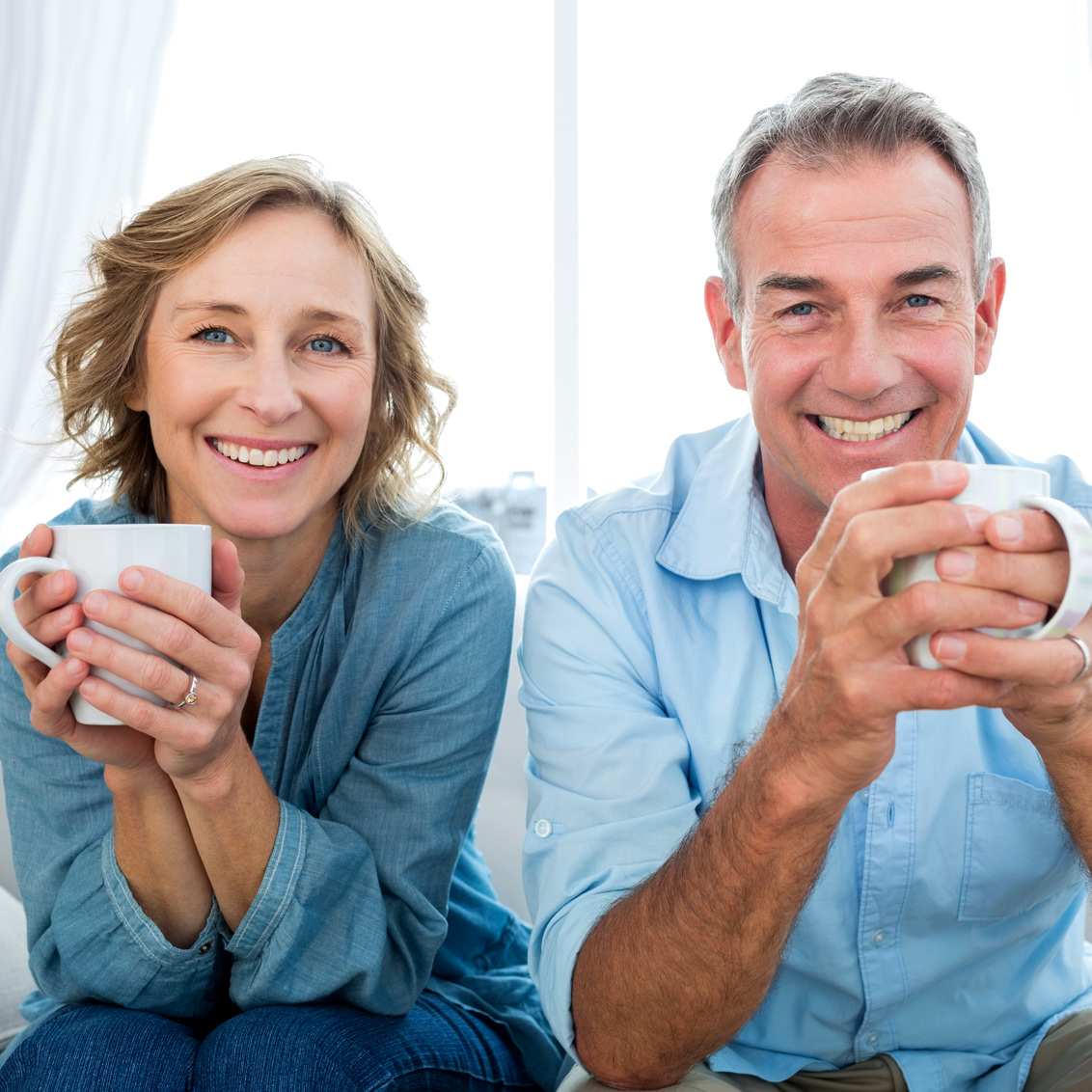 Join our team
Our impactful work is hugely reliant on our volunteers and would not work without them. Make a difference in our community by joining us and volunteering your time to help someone in need.
If you are interested in joining our team of caring volunteers, please complete the Online Volunteer Form or call 1-800-267-3798.
How Our Service Works
If you are new to HCSS and would like access one of our programs or services, register with us by calling the central intake office at 1-833-659-5491.
Afterward, please contact us to arrange your service.