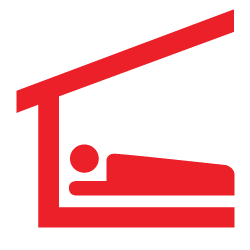 Safe & Snug
Our qualified staff will care for your loved one in a safe environment while caregivers have a much needed break. This program is available to all clients living in Grey and Bruce Counties. Overnight Respite is held in our Owen Sound and Hanover sites.
Relief for all
This program is funded through Behavioural Supports Ontario and the South West LHIN. The aim of this program is to support older adults with responsive behaviours due to cognitive impairments, dementia, neurological disorders, and other issues.
This service offers caregivers a scheduled break, leaving the care of their loved one in the capable hands of qualified and caring staff. 
Our program
This weekend program alternates between our Hanover and Owen Sound sites and can accommodate up to three clients from 4:30pm on Friday until 2:30pm on Sunday in Hanover and Friday, Saturday and Sunday nights in Owen Sound. Clients may also attend Day Away on the Friday from 9:30am until 4:30pm. Meals & snacks plus planned activities are important parts of the program.
The cost for the weekend is $100. If a client attends Day Away on the Friday as well an additional $10 will apply. This includes transportation as well as snacks and meals.
How Our Service Works
If you are new to HCSS and would like access one of our programs or services, register with us by calling the central intake office at 1-833-659-5491.
Afterward, please contact us to arrange your service.